[ 2021-02-02 ]
Wireless Networking on a Sailboat
Abstract
Network connection is a common thing today's sailor wants while out on the water for longer periods. The problem of cell coverage and available signal often arises when in a marina or even when going below deck.
4G LTE
There's an answer for those problems above and it runs off DC power.
LTE Fix has an excellent series of guides and a highly-knowledgable support staff that can answer questions from compatibility all the way to expected power consumption.
I used their guides located at LTE Hacks, including this one for gettings started — Introduction to Building and Configuring a WiFiX/GoldenOrb/ROOter Cellular Router.
Breakdown
The following segments are how I built my unit in the summer of 2020 and the best options will likely have changed by the time you read this.
I use Google Fi with my setup, with their "unlimited" plan, which offers 22GB per month of full-speed, unencumbered data, where after that quota, data speed is capped at 32KB per second, per device. The SIM that's in the modem is a data-only sort without the capability of dialing out with a phone number like a standard SIM. I share that card on the same plan as my primary phone.
A good reason to use Fi is it allows (mostly) seamless transitions across countries, which can be an asset on a boat when moving from one port to another. But it also piggybacks on T-Mobile and Sprint's antennas (in the US), giving a higher likelihood of getting a signal by any nearby towers. If you're in some faraway land, it will automatically use that area's agreed-upon network without the end-user having to do a thing.
Parts
The total cost I incurred for parts for this build was $520, including enclosure and antennas.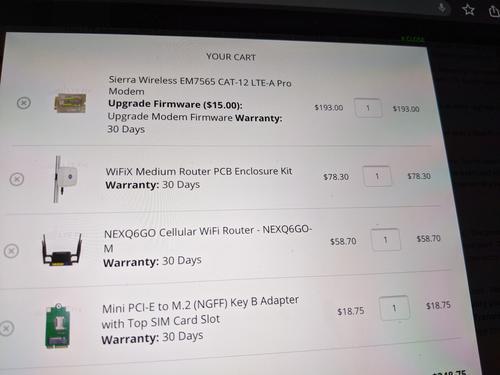 Modem and Router
This is where you don't want to go too cheap. Buying the right modem can make a big difference in the maximum potential speed you'll see for downloading and uploading.
I chose this router because for a 36-foot vessel, I didn't need to broadcast a signal across the Bay.
Sierra Wireless EM7565 CAT-12 LTE-A Pro Modem
NEXQ6GO Cellular WiFi Router - NEXQ6GO-M
Enclosure
Marine environments are harsh. Keep your router, modem, and DC to DC converter in a completely-enclosed area to keep it going as long as possible.
The WiFiX enclosure comes with poor-quality galvanized fasteners to keep the top and bottom of the fixture held together. I would recommend getting some 304 stainless M4 x 40mm flathead machine screws to make sure they won't ever disintegrate from salty sea air and rainwater.
I decided to go the extra mile and mount the enclosure directly underneath my radar assembly (photo at the end of the post).
WiFiX Medium Router PCB Enclosure Kit
Antennas
The antennas need to be placed at least a few feet apart to give better signal and the higher up they go, the better your signal will be.
(2) Wilson Electronics 9.88-inch 4G Wide Band Omni-Directional Marine Antenna w/ SMA Male Connector
Miscellaneous
Mini PCI-E to M.2 (NGFF) Key B Adapter with Top SIM Card Slot
(2) Shakespeare Antenna Mount Nylon Ratchet
DC Voltage Converter Automatic Buck Boost Converter DC 8V-40V to 12V 3A
Cables
Proxicast 6 ft Low-Loss Coax Jumper Cable (50 Ohm) - N Male to N Male
8dBi WiFi RP-SMA Male Antenna 2.4GHz 5.8GHz Dual Band
U.FL to SMA M.2 NGFF UFL to SMA Female MHF4 IPX4 IPEX4 Ipex Connector Pigtail WiFi Antenna Extension Cable
SMA Adapter SMA Male to RP SMA Female Jack Connector for RF Coax Cable Wi-Fi
Wiring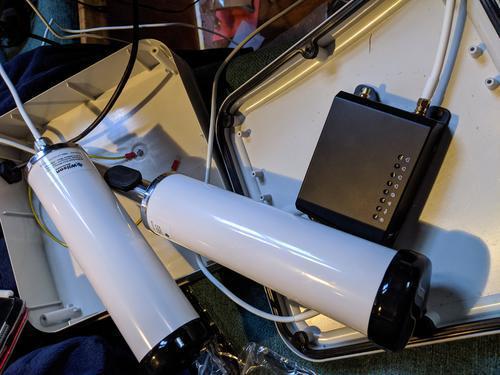 I have a 12V lithium bank. From there, I have a 12V DC to DC converter to keep the voltage to the modem nice and smooth.
The power draw is a smooth 0.1 amps at 12V.
Closing
Results
Results depend on time of day, tides (height of the boat relative to shore), and a few other things.
A one-to-one test from inside my insulated cabin showed the following results:
Installation
Ping: 44 Download (Mbps): 8.95 Upload (Mbps): 8.14
Pixel 4a on LTE
Ping: 45 Download (Mbps): 1.89 Upload (Mbps): 0.42
Need Some Help?
If you decide to make something like this, send me an email and I'll help you out for free.
---
Previous: Installing a New Electric Anchor System | Next: Three Months of Hell in Napa